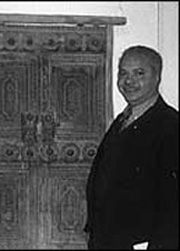 The Painter and the Poet | Harold Hart, An Inate Artist


Harold Hart was the director of Martha Jackson Gallery for 14 years. The Gallery represented in New York painters such as Rothko, Klein, DeKooning, Toledo and introduced the works of Fontana, Tapies, Oldemberg, Appel, among others.
In 1983, Ginés and the American Indian leader, Russell Means, lectured at The Spanish Institute of New York. Mr. Hart was in the audience and was moved by their speech. Later, he introduced himself to Ginés and they discovered a mutual passion for the arts.
A man with extraordinary knowledge of contemporary art, Mr. Hart began to follow Ginés's work and encouraged him to continue painting. He wrote the prologue of Ginés's book To the Sea: Lost Poems (Tokyo, 1992), and said: "Rarely in time an artist emerges with such an innate sensibility capable of self-expression in painting as well as in poetry. Such an artist is Ginés Serrán-Pagán."
Harold and Ginés became close friends and shared a great sense of humor. Once, Mr. Hart said: "I met in my life three geniuses: Ginés Serrán-Pagán, Francisco Toledo and my dentist."